About Gessmann North America Limited
Guidelines
Our customers are the most important part of the company.
Therefore the satisfaction of the costumer always comes first and is the center of our actions and pursuits.
We always practice an open and honest relationship amongst each other at the company Gessmann.Constructional criticism contributes thereby, just like the basic and advanced training of our employees, to the improvement of the company. We put great emphasize on a positive working atmosphere and a high motivation of the employees.
A constant improvement in all areas, guaranteed by flexibility and innovation, offers our customers an advantage over other companies of this industry.
Maintaining and guaranteeing the quality of our products remains thereby the highest goal of our business policy. This is guaranteed by the high quality principles which are based on the know-how of many decades.
At the same time it is self-evident for us to preserve the environment by acting conscious and economical with the given resources.
Future prospects
For our future we trust in the commitment as well as the high motivation of our employees. On this basis we want to do justice to the demands of our customers. And we want to guarantee our position as one of the top-producer of industrial controllers.
Quality, flexibility and customer focus are thereby our columns for a successful future.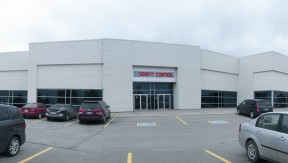 Gessmann North America Limited, Milton ON Canada